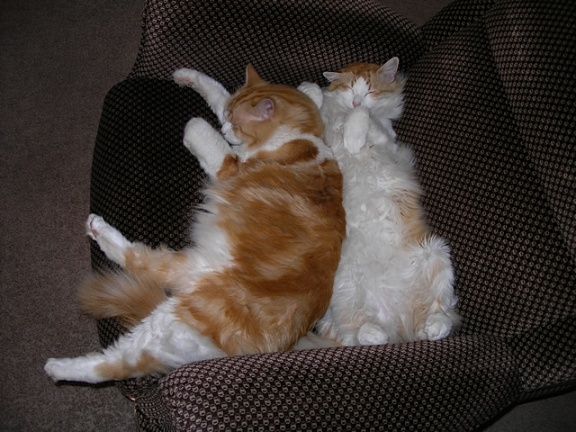 Nap Time for Dandy and Sandy!
Novelist Keli Gwyn is the proud owner of Dandy and Sandy. Keli tells us, "Our two cats, brothers Dandy and Sandy, were born to a stray dumped on a friend's property. They spent their first eight weeks living under a goat shed. Because of their feral origins, they're rather skittish and very shy. When the doorbell rings, we see a flash of orange and white as they hightail it for the back bedroom. They trust us, though, and are great companions. During the day when I'm writing, they're always nearby. Our fellows are long-haired and leave fur everywhere, so I'm often covered in the stuff. My motto has become, "Have lint roller; will travel."
On July 1, 2012, Keli celebrated the release of her first novel A BRIDE OPENS SHOP IN EL DORADO, CALIFORNIA from Barbour Publishing. Check out her information at
http://keligwyn.com/library/my-book/
I've already purchased my copy of Keli's novel. If you're interested, you can connect at http://www.amazon.com/Bride-Opens-Shop-Dorado-California/dp/1616265833/ref=sr_1_1?s=books&ie=UTF8&qid=1342911688&sr=1-1&keywords=keli+gwyn
Like Keli, I'm a pet owner who believes in the value of the lint roller! Do you have any other tricks you've learned about divesting clothes and furniture of pet hair?
Blessings!
Sue