This past week was filled with many activities for our family, including some great time on the road with my husband as we continued to participate in the 2013 U.P. Author's Tour. I will post about that in the future, but this post is dedicated to our Class Reunion (Pickford High School Class of 1968).
We've always been close, and now the ties are even stronger as we cheer each other through the joys and sorrows of life. Rather than rattle on about what we did (a wonderful dinner at a classmate's summer home) and how much we ate (lots) and how how much we remembered and laughed (even more than lots), I'll cut to the pictures. One quick explanation, we always hold our reunions during Pickford's Community Days (Hay Days – we're a farming community), thus the parade and the float…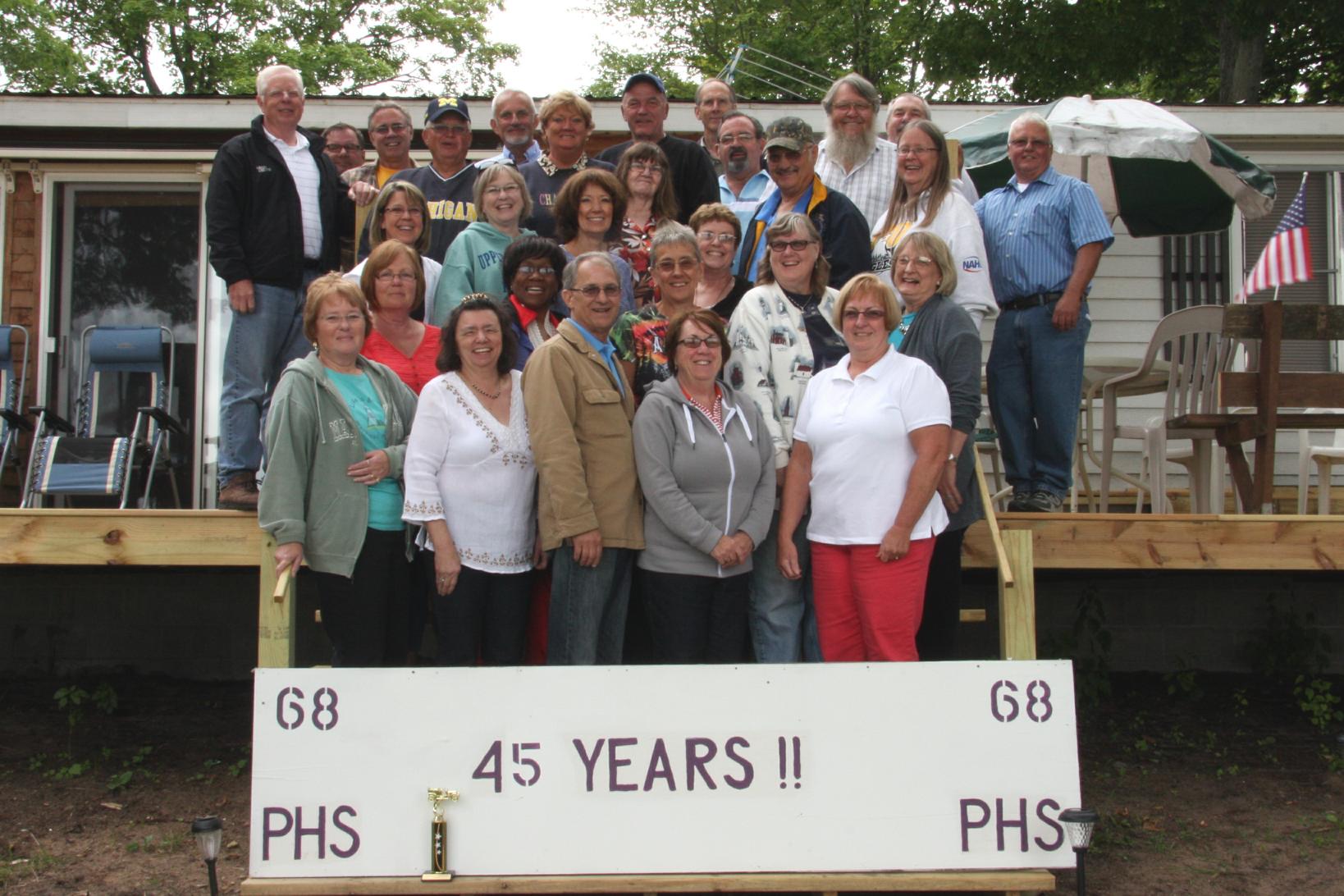 Photograph by classmate Christine Ordiway Nettleton. At the summer home of Barb and Ted McGlinch.
                                           Photograph by Dawn Harrison Mastaw.
The guy running to catch up to the float is classmate Ron Harrison. In the yellow shirt my husband, Neil. (Yes, we were in the same class!)
Photo courtesy of Cindy McDonald Panik.

You might have noticed the trophy at the bottom of the first photograph. We won that for having the best "Class" float.

One of the foods that received rave reviews (besides the homemade pies, homemade rolls and bread, barbequed steak and chicken, salads….) was a chip dip made by Marilyn Huyck. She's shared her recipe and here it is:

**************************************************************************

2 – 1 lb. pkgs of breakfast sausage – use 1 mild and 1 hot

2 – 28 oz. cans of Rotel diced tomatoes with green chilies (use juice and all)

8 – 8 oz. pkgs of cream cheese

Brown the sausage, chopping it into small pieces, add the tomatoes and cheese, turn heat down low until mixture is warmed through. Put in a crock pot on low to serve warm or can be eaten cold. Serve with various types of chips.

***********************************************************************************

At the end of the evening, we gathered around a small bonfire, enjoyed conversation and jokes. Then classmate Ted McGlinch recited some of his beautiful poetry from memory. Neil and I thought you might enjoy listening to "Brotherly Love," one of the poems Ted gifted us with that evening:

As you can see my class is a very important part of my life. Many of us have been together since kindergarten, and it's amazing to me that of a class that had a total number through the years of about 50, we had 30 of us plus spouses and friends at the reunion. One of the most special moments was when we all gathered in a huge circle, held hands, and one of the ministers in our group, Dr. George Portice, gave a blessing. Yes, we are truly blessed!

And many blessings to you!

Sue