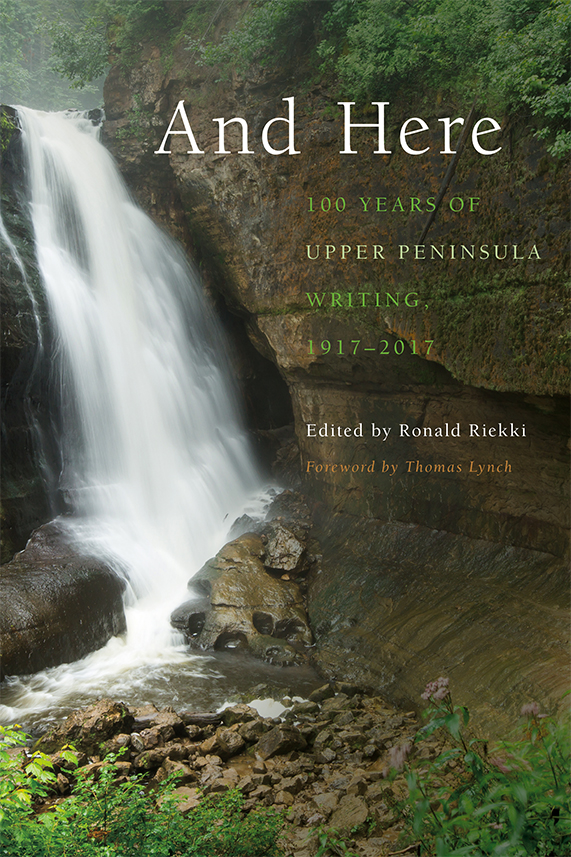 I'm honored to offer as our September Free Book AND HERE 100 Years of Upper Peninsula Writing 1917-2017, released by Michigan State University Press and edited by Ronald Riekki. I'm also honored to have an excerpt from my novel Mother Earth Father Sky and a section introduction included in the book. I will sign both locations in our give-away trade paperback copy.
From the back cover, "Upper Peninsula literature has traditionally been suppressed or minimized in Michigan anthologies and Michigan literature as a whole. These people and this place are strongly made up of traditionally marginalized groups such as the working class, the rural poor, and Native Americans, which adds even more insult to the exclusion and forced oppressive silence. AND HERE . . . gives voice to Upper Peninsula writers, and in doing so forcefully insists on the geographic and literary inclusion of the U.P. — on both the map and the page."
To have your name included in our Wednesday, September 13, 2017, drawing, just answer this question: Have you ever lived in or visited Michigan's Upper Peninsula?
(Photo used with permission from Michigan State University Press)