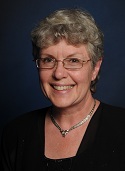 Sue Harrison is the author of six critically acclaimed and internationally bestselling novels. Mother Earth Father Sky, My Sister the Moon and Brother Wind make up The Ivory Carver Trilogy, an epic adventure set in prehistoric Alaska. Song of the River, Cry of the Wind and Call Down the Stars  comprise The Storyteller Trilogy.  Sue has also written a young adult book, SISU, released by Thunder Bay Press.
Sue Harrison was born in Lansing, Michigan. The first of five children, she was raised in the town of Pickford in Michigan's Upper Peninsula where she lives with her husband, a retired high school principal, and their schnauzer puppy Tiffany. They are blessed with a daughter and a son, a daughter-in-law and two grandchildren.
A graduate of Pickford High School, Harrison graduated summa cum laude from Lake Superior State University with a B.A. in English Language and Literature. She was named Lake Superior State University's Distinguished Alumna in 1992, and served eight years on the university's Board of Regents.
Harrison's first novel, Mother Earth Father Sky, was published in 1990 by Doubleday (hardcover) and Avon (paperback) and Open Road Integrated Media (ebook). It was nominated in the states of Michigan and Washington for the Reader's Choice Award among high school students, and was one of ten books chosen for "Battle of the Books," a statewide student reading competition in Alaska. The novel has had success in both the adult and young adult markets, and received a boxed review in The New York Times Book Review. It has been a national Publishers Weekly bestseller, and recently an Amazon top 5 paid books bestseller in ebook format. Mother Earth Father Sky was selected by the American Library Association as one of 1991's Best Books for Young Adults.
Harrison's second novel, My Sister the Moon, (Doubleday/Avon 1992/Open Road Integrated Media 2013) has also received recognition by reading and school groups throughout the United States and was a Baker and Taylor top ten in library sales. Both Mother Earth Father Sky and My Sister the Moon were Main Selections of the Literary Guild Book Club and alternate selections of the Doubleday Book Club. Brother Wind, Harrison's third novel was released in hardcover by William Morrow, October 1994, in 1995 as an Avon paperback, and in 2013 as an Open Road ebook. The novel was chosen as an alternate selection by both the Literary Guild and Doubleday Book Clubs. Song of the River and Cry of the Wind were both published by Avon Hardcover/Avon paperback, a division of Hearst Books and by Open Road. The third book of The Storyteller Trilogy, Call Down the Stars was published by Morrow/Avon in 2001 and 2002 and by Open Road in 2013. It was featured alternate of the Literary Guild and Doubleday Book Clubs.
Harrison's books have also been published in Canada, Great Britain, Australia, New Zealand, The Netherlands, Belgium, Sweden, Germany, Italy, Spain, Iceland, Denmark, Norway, Austria, Portugal, Japan, France, Finland, and South America. Her work has been anthologized by Northwest Books and Wayne State University Press. An excerpt from Mother Earth Father Sky and a section introduction are slated for publication in 2017 in a Michigan State University Press Anthology.
Working currently on a novel set in prehistoric Europe, Sue Harrison would love your input on her Facebook page, Sue Harrison Author, to help her write scenes and develop characters and the plotline for the novel, working title BONE FIRE.